Hello again, Friends!
We're back today for another Vault Release Countdown for MFT. The release goes live tomorrow – filled with well love products from the MFT Vault. We're bringing back past favorites that were retired! It's always fun to see all the new ways these products are used! Today, I'm sharing a card made using the Class Act set.
I have a special place in my heart for teacher and student cards! I just think they're so sweet and really give great tribute to the hard-working teachers who are molding and shaping the minds of our future. My mom always told me that a teacher is a parent outside the home and should be respected as such. That's always stuck with me. Anyway – sorry for the rant! I stamped and colored my images with Copic markers – lots of little parts to color and I used a lot of markers!
Bus:  C4, C6, C8, Y11, Y15, Y19, Y38, B0000, B00, B01
Ruler:  E30m E31, E33, E35
Pencil:  RV34, R35, Y21, Y23, YR31, YR21, YR24, C1, C4, C6
Apples:  R22, R24 R27, R29, R39, E37, YG06, YG09, G09
Hair:  E34, E37, E79
Skin:  E000, E50, E11, R20
Books:  R22, R27, R29, G43, G46, B02, B06, [E35 E39], [E0000, E31], Y00, Y15
Boots:  C2, C4, C6, C8
Skirt:  B23, B24, B37
Shirt:  C0, C2
Vest and Bows:  RV11, RV32, RV34
Backpack:  BG11, BG13, BG18
To use all the images, I felt I needed to use a collage since the images are in different scales. So I die-cut the Stitched Collage Frame in white and adhered it over a piece of patterned paper from the Spring Whimsy Paper Pad using foam adhesive for dimension. Then I attached my images and added my embossed sentiment.
I hope you enjoyed this project! Thanks so much for stopping by! The releases is tomorrow and there will be another card to share! See you then!
SUPPLIES: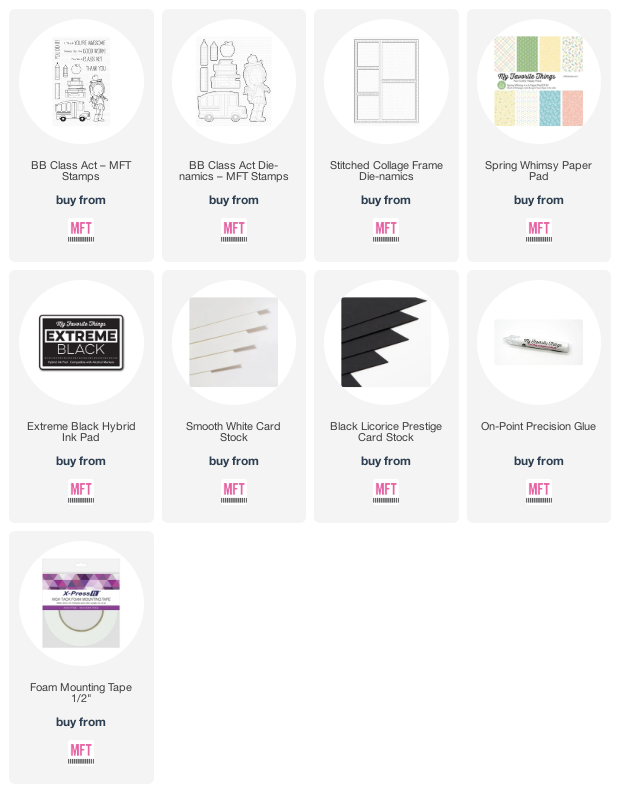 https://linkdeli.com/widget.js?id=f5e8378456858c916708