Hi, Friends!
"We're a bit busy this time of year…just us? Clean and simple cards are not only appealing, they can also be put together in minimal time (OK, the design process might take just as long but the assembly is quicker…right? Right??) so they are a great option when time is short, and you'd prefer to use fewer supplies to minimize clean up. Clean and simple is the theme this month — take a few minutes out of your busy schedule to see what you can come up with!"
The challenge today was CLEAN and SIMPLE – it looks clean, it looks simple, but I can you tell you that precision made this assembly longer than it looks! But you definitely don't need to stack 4 layers of letters like I did – or do a drop shadow with black cardstock. I took a lot of time carefully ink-blending the rainbow – because the height of the letters isn't too tall, I had to make sure I got all colors of the rainbow in. The trick to that for me, is using LESS colors than you see and letting a few of those colors organically blend in and appear on their own for the Wish word. The colors I used are: Worn Lipstick, Squeezed Lemonade, Peacock Feathers, Wilted Violet.
I embossed a simple sentiment strip using the Bitty Birthday Wishes stamp set and finished my card with a simple stitch around the card front before assembling all the pieces!
Be sure to play along for your chance to win a shopping voucher at the MFT Boutique! This should be a fun and easy one to play along to!
Thank you all for stopping by today!
SUPPLIES: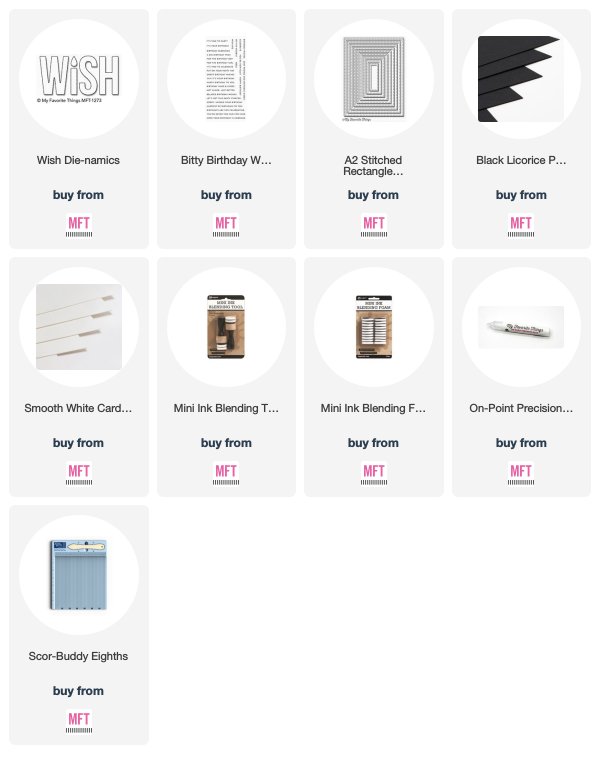 https://linkdeli.com/widget.js?1559654439292